Laminated Yoke DC Motors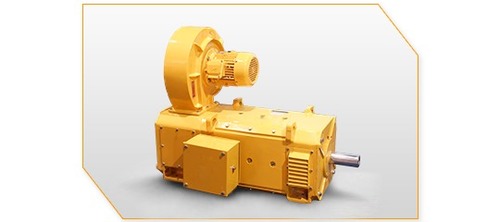 Laminated Yoke DC Motors
Price And Quantity
Piece/Pieces

10000.00 - 50000.00 INR
Product Description
Laminated Yoke DC Motors
New India offers an entire range of World Class DC Motors with Laminated Yoke in frame sizes from 80 to 710. Motors are designed for applications having constant and variable speed requirements. We not only offer a complete range of standard motors but 50% of the motors produced are specially designed based on application requirements. Motors are rugged & reliable in construction.

The Armature core is built from low loss, high grade, cold rolled, silicon steel stamping for high efficiency. Commutators are designed with archbound construction to provide high conductivity. General applications include Plastic Extruders, Printing Machines, Steel Rolling Mills, Wire Rod Mills, Apron Feeder, etc.
| Range | |
| --- | --- |
| KW | 0.37 to 6500 |
| Frame | 80 to 1000 |
| Duty | S1/S3/S5 |
| Armature Voltage | 110 to 1100V |
| Excitation Voltage | 180 to 360V |
| Insulation | F/H |
| Enclosure | IP23/44/54/55 |
| Cooling | IC01/06/17/37/0041/066/W37A86/44 |
| Mounting | B3(Foot)/B35(Foot Cum Flange)B5(Flange) |
| Standard | BS 5000/IS4722 |
Applications

Steel Mill Drives/Rolling Mills/Wire Rod Mills
Cement Mills
Sugar Mills
Paper Mills
Textile Mills
Cable and Wire drawing machines
Mining
Test Rigs
Rubber Mixers
Printing Machines
Plastic Extruders
Salient Features

Rugged and Reliable design and construction.
Armature core built from low loss, high grade cold rolled silicon shell stamping for high efficiency.
Completely in-house built commutators to ensure high quality and long performance.
Commutator built of archbound construction using high conductivity, hard drawn silver bearing copper segments.
Completely laminated magnetic circuit for high di/dt.
Various improved cooling systems for better efficiency.
High torque to weight Ratio.
Spacious terminal box.
Custom built designs for specific / special applications.
Skewed rotor construction&ndash ensuring low noise.
Vacuum pressure impregnation for armature winding- ensuring high insulation strength.
High Dynamic response.